Robert Crabtree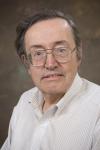 Conkey P. Whitehead Professor of Chemistry
Address:
225 Prospect St, New Haven, CT 06511-8499
Professor of Chemistry
Member of Yale faculty since 1977
Email: robert.crabtree@yale.edu
Web site: http://crabtreelab.commons.yale.edu/
Research Design and synthesis of inorganic, coordination or organometallic molecules with unusual structures and properties. These are typically catalytic properties for atom economic (green) transformations, bioinorganic relevance or utility in alternative energy strategies, such as solar energy and hydrogen storage. Molecular recognition is applied to homogeneous catalysis to obtain high selectivity. Computational and physicochemical insights are obtained from collaborative work.
Education
B.A. New College, Oxford 1970
Ph.D. Sussex University 1973
Postdoctoral Fellow, CNRS, Gif-s-Yvette, France, 1973-75
Attaché de Recherche, Gif, 1975-77